This page seeks to highlight the many book series and journals in the field of CSR.
---
Journal for the Cognitive Science of Religion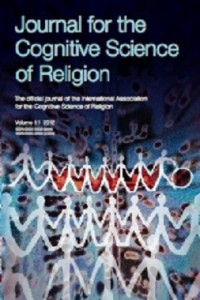 Paid members of the IACESR receive a generously discounted membership to the JCSR. Details are available on the members only page here.
Editors:
Armin W. Geertz, Aarhus University
Kristoffer Laigaard Nielbo, Aarhus University
Valerie van Mulukom, Coventry University
Chairs of International Advisory Board:
Pascal Boyer, Washington University in St. Louis
Luther H. Martin, University of Vermont
Book review Editor:
Istvan Czachesz, University of Tromsø
 Journal for the Cognitive Science of Religion is the official journal of the International Association for the Cognitive Science of Religion (IACSR). The Association was founded in 2006 and since then has sponsored a number of international collaborative projects and biennial conferences. Members of the IACESR receive heavily discounted access to the Journal for the Cognitive Science of Religion.

The cognitive science of religion is a burgeoning field that finds itself in the center of cross-disciplinary research. Cognition is understood in a variety of ways from bottom-up to top-down models and theories. New insights into cognition, culture and religion are being discovered, new ways of doing research are being established and new methodologies and technologies are being used in the cognitive science of religion. The number of scholars and scientists working in this exciting field are expanding exponentially, and the journal provides a cutting-edge publication channel for this field.
The editors will consider the following types of original papers:
General and research articles (maximum 6,000 words)
Research reports (up to 4,000 words)
Short Reports (up to 2,500 words)
Commentaries, Addenda, and Book Reviews (up to 1,500 words)
Invited target articles (up to 8,000 words)
Journal of Cognition and Culture
Senior Editors: E. Thomas Lawson and Pascal Boyer
Assistant Editor: Justin E. Lane
Book Review Editor: Emma Cohen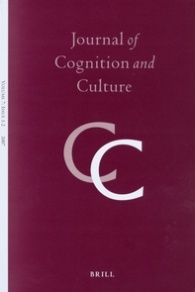 The Journal of Cognition and Culture provides an interdisciplinary forum for exploring the mental foundations of culture and the cultural foundations of mental life. The primary focus of the journal is on explanations of cultural phenomena in terms of acquisition, representation and transmission involving cognitive capacities without excluding the study of cultural differences. The journal contains articles, commentaries, reports of experiments, and book reviews that emerge out of the inquiries by, and conversations between, scholars in experimental psychology, developmental psychology, social cognition, neuroscience, human evolution, cognitive science of religion, and cognitive anthropology.
Journal of Cognitive Historiography
Editors: Esther Edinow & Luther H. Martin
[From the journal website]
The Journal of Cognitive Historiography is the first peer-reviewed publication for research concerned with the interactions between history, historiography, and/or archaeology and cognitive theories.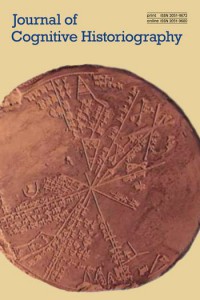 The journal provides a forum for scholars from a range of different disciplines, and draws on diverse approaches to examine how cognitive theorizing may support historical research, and vice versa. Examples of areas of research include the relationship between universalizing theories and specific historical events, the mental worlds and functions of historical agents, and the transmission of ideas and/or practices across time and place.
The editors welcome contributions from all periods and on all topics of historical and archaeological study, as well as those raising diverse methodological or theoretical issues. On the cognitive side, these may include, but are not limited to, those found in the disciplines of cognitive psychology, cognitive anthropology, cognitive sociology and neuroscience, as well as evolutionary theorizing.
Religion, Brain, & Behavior
Editors:
Joseph Bulbulia – Victoria University of Wellington
Richard Sosis – University of Connecticut
Michael Spezio – Scripps College
Wesley J. Wildman – Boston University
Assistant Editor:
James Haag – Suffolk University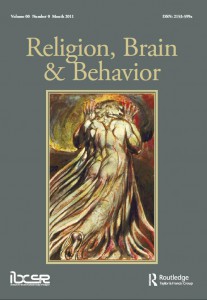 [From the journal website] The aim of Religion, Brain, & Behavior (RBB) is to provide a vehicle for the advancement of current biological approaches to understanding religion at every level from brain to behavior. RBB unites multiple disciplinary perspectives that share these interests. The journal seeks empirical and theoretical studies that reflect rigorous scientific standards and a sophisticated appreciation of the academic study of religion.
RBB welcomes contributions from a wide array of biological and related disciplines, including cognitive science, cognitive neuroscience, evolutionary psychology, social psychology, evolutionary anthropology, social neuroscience, neurology, genetics, demography, bioeconomics, neuroeconomics, physiology, developmental psychology, psychology of religion, moral psychology, archaeology, mimetics, behavioral ecology, epidemiology, public health, cultural evolution, and religious studies. In summary, RBB considers high quality papers in any aspect of the brain-behavior nexus related to religion.
International Journal for the Psychology of Religion (IJPR)
Editor: Raymond F. Paloutzian
General Orientation: IJPR, published by Taylor & Francis/Routledge, is listed in ISI and is the world's leading journal for publication of scholarship in the psychology religion. The psychology of religion is broadly understood to include diverse approaches (e.g., cognitive, neuroscientific, psychoanalytic, developmental, social-psychological-cultural) as a vehicle to establish such knowledge of religions worldwide. IJPR is a means of sustained discussion of psychologically relevant issues that can be examined empirically and concern religion in the most general sense and across all levels of analysis. Topics published include but are not limited to cognitive psychology and cognitive science of religion; attachment, evolutionary, and psychoanalytic theoretical advancements; religious development; conversion; religious experience; religion and social attitudes and behavior; religion and mental health; cultural psychology of religion; and others.
Types of Articles: Original empirical research, theory, comprehensive reviews of an area, perspectives on special topics or issues, articles that reflect the field in a geographical region, book reviews. Special Issues of the journal are published on a central topic.
Submission and Turn around time: Submit by email in APA style to the editor at the address below. Turn-around time is 2-3 months average, but this can vary from as little as one week to up to 4 months, depending on the depth of the review process required.